What is Help Them To Hope?
Established in 1959, Help Them To Hope is a community-wide fundraising effort for businesses, organizations and individuals to come together during the holiday season to provide support and assistance for Lake County people in need.
Help Them To Hope, Inc. is recognized by federal and state governments as a non-profit corporation, providing tens of thousands of dollars annually to Lake County public service agencies for direct disbursement to individuals in need.
More than 60 years ago, a small group of pressmen at The News Sun started a modest in-house collection for people in need. In 1959, the fund was opened to the public and since then has generated over $2.5 million in direct contributions to assist the needy.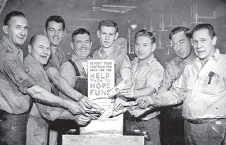 News Sun pressmen show their support of the newspaper's annual Help Them To Hope fund campaign in December 1968.
(Image Courtesy of the Lake County News-Sun)
How does Help Them To Hope work?
Traditionally, Thanksgiving Day kicks off the campaign, which continues through the first days of the New Year. Lake County News-Sun provides a listing of individual donors as well as a total of campaign contributions. The Daily contributions are uploaded to the HTTH website.
Donations are accepted throughout the year at Help Them To Hope, P O Box 364, Gurnee, IL 60031 and are listed in the newspaper at the beginning of the next campaign.
All administrative costs of collection, accounting, publicity and disbursement of the proceeds of Help Them To Hope are absorbed by the Board of Directors and Lake County News-Sun.
Advertisements, photos and stories about Help Them To Hope appear in Lake County News-Sun throughout the campaign. Frequently during the year, donations are made in memory of departed loved ones, and are recognized in Lake County News-Sun and the website at the beginning of the annual campaign.
Where do Help Them To Hope funds go?
All Help Them To Hope donations go to local service agencies which provide direct financial support and services to Lake County residents in need. Agencies are selected because of their broad local outreach and support services. Help Them To Hope funds are used to provide emergency shelter and aid to homeless and/or battered men, women and children; to supply emergency financial aid to individuals needing assistance for medical expenses and energy bills during winter months; and to make food and clothing available to families or individuals in emergency situations.
How Can I Help? - Click here to see how you or your company can assist us.
Click Here to read a Lake County News-Sun article about Help Them To Hope
Click Here to view our IRS Tax Deductible Letter (.pdf)
Click Here to download grant application (.pdf)
Click Here to download our brochure (.pdf)
Click Here to read a Special Letter from Help Them To Hope President Richard A. Ribando.
Click Here to read a press release about the money disbursed on February 4th.